Plumbing Services in Pinehurst
24/7 Emergency Plumbing Solutions
At Thomas Plumbing, you will find professionals with decades of experience getting the job done right the first time. It's important to us that we always keep our customer's needs in mind so that we can provide the best customer service possible. Your plumbing is often a system that's out of sight and out of mind – until something goes wrong. We work hard to provide prompt solutions you can trust with upfront, flat-rate pricing and warranties on parts and labor. With our thorough maintenance and repair services, you have no reason to struggle with your plumbing system! You can call Thomas Plumbing for reliable Pinehurst plumbing repair.
We provide quick and quality solutions during an emergency. Schedule your appointment by calling us at (910) 727-1641 or filling out our online contact form!
Automatic Job Status Notifications

Skilled, Friendly Technicians

Flat Rate, Up Front Pricing

Financing Options Available
How We Serve You
Thomas Plumbing's team is dedicated to being the only call you need to get the problem fixed quickly with a long-lasting solution.
We offer these services to meet our community's needs:
Fixture installation
Plumbing repair
Garbage disposal installation
Sewer camera inspection
Tankless water heaters
Hydro jetting
Leak detection & repair
Sewer & water lines
Commercial pipelining
From beginning to end, we're always here for our customers. Many problems with your plumbing system can be prevented with maintenance services like hydro jetting, leak detection, and sewer camera inspections. Scheduling these services annually may seem like a significant upfront cost. Still, they can save you stress, time, and money in the long run by catching problems early or preventing them altogether.
When you do need a solution, we're here for you with same-day and 24/7 emergency services, so you're never without the answers you deserve. As soon as you notice problems with your plumbing, like a leak or an unexplained spike in monthly costs, don't hesitate to reach out to our professionals to find a solution. From tankless water heaters to pipelining, we're the professionals to count on for thorough plumbing repair in Pinehurst.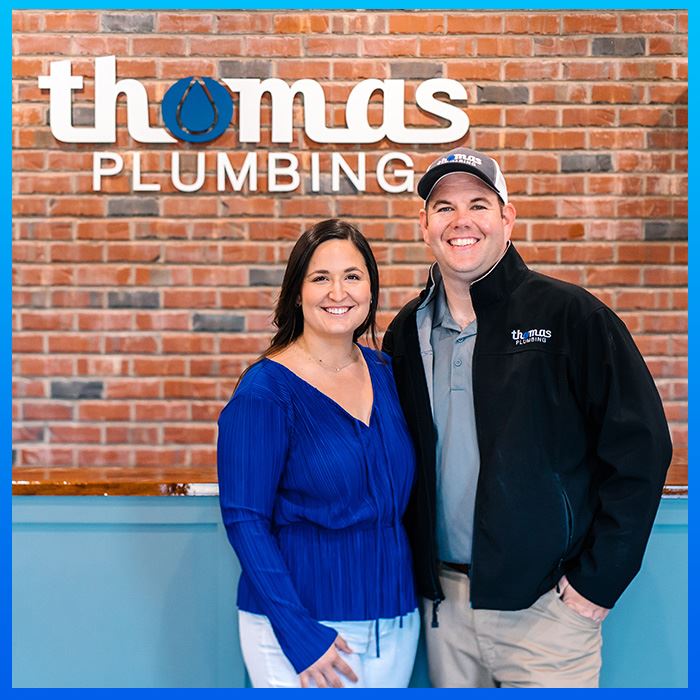 Hear From Our Happy Customers
At Thomas Plumbing, your satisfaction is our priority! See for yourself what our customers have to say about working with us.
"Thomas Plumbing was quick and professional."

After this great experience, we will certainly use them again in the future as needed and refer them to our friends. Thanks again to Lisa for quick scheduling and to Tim for his expertise!

- Tricia M.

"Great company!"

Very thorough and professional. Showed up on time ready to work. The quality of work was excellent. Would definitely recommend!

- Jennifer A.

"No One Better!"

I get so nervous when calling companies for repairs because of the type of service I receive. I called Thomas Plumbing for a garbage disposal installation and sink installation and had a really good experience. Michael and Brandon came out to do the job fo

- Mammie S.

"Couldn't Be Happier"

We came home to a failed hot water heater and someone was at our house within an hour of calling. Amazing service from start to finish.

- Hillary D.

"A truly loyal customer"

Whenever I call them, I get a same-day appointment, they are on time, professional, and courteous. Their work is always guaranteed by warranty. The quality of their work is exceptional. I have America Homeshield but will call Thomas Plumbing because of the

- Sharon S.

"Our guy Steve did an awesome job!!"

I'm so glad I went with Thomas Plumbing!! Not only was he responsive, he was here exactly when he said he would be, got right to the root of the problem AND found some additional small issues I didn't notice. Great guy and a great company!! I&r

- Sean M.

"Best in NC!"

Tim and his associate were on time, professional, and kind. Very refreshing to have such good service. I would recommend them highly and they will be my only choice in North Carolina for plumbing needs.

- Thomas S.

"I can't recommend them enough!"

Have never experienced such good service from a company. Every time we call, they give timely, excellent service. We noticed an underground leak today in the pipe that runs from our well to the house. Even though it was 4pm, they had 2 very nice young men

- Mary S.
What Is a Plumbing Emergency?
When you begin to experience a plumbing problem, deciding whether you need an emergency solution can be challenging. If there's ever a time when you're concerned about water damage or flooding, don't hesitate to call our professionals. Examples of plumbing emergencies include a significant water leak, burst pipes, or sewer backups. All of these emergencies are preventable with the proper maintenance.
Sewer backups may be the most concerning emergency because they can let dangerous gasses and contaminated water into your space that spread germs. It's important to us that you always have access to clean water, so don't wait to schedule a service if you notice a bubbling toilet or foul odors that won't go away.
For professionals that take care of you, count on Thomas Plumbing. We'll get the job done right the first time.
Our team is available 24/7, so you can always Just Call Thomas. Reach us today at (910) 727-1641 for an appointment!
Our Blog
Stay in the know with the latest plumbing tips from your Thomas team!