Plumbing Services in Southern Pines
Tens of Thousands of Happy Customers
Your plumbing system is an integral part of your home's or business's everyday functions, meaning that seemingly simple tasks become difficult when things stop working. Thomas Plumbing is the team to call for a quick and long-lasting solution to whatever problems you may be facing. With same-day and 24/7 emergency availability, you'll never be without the services you deserve. Our team has spent over a decade serving our community with pride. For expert plumbing services in Southern Pines, just call Thomas!
Don't delay! Reach out to our team members now at (910) 727-1641 for fast and quality solutions you can count on.
Automatic Job Status Notifications

Skilled, Friendly Technicians

Flat Rate, Up Front Pricing

Financing Options Available
Our Plumbing Services
Don't trust anyone else with your residential or commercial plumbing needs when Thomas Plumbing is always available for our community.
Here are our thorough plumbing solutions:
Fixture installation: We install garbage disposals and all other plumbing fixtures, so you don't have to fight with an instruction manual over the weekend. Save your time and frustration by trusting our professionals.
Sewer camera inspection: Maintain your pipes properly with an annual sewer camera inspection that helps our team look for blockages, weak areas, and other problems. This service is often completed before hydro jetting to ensure your system is strong enough for the high-pressured water.
Tankless water heaters: Increase the efficiency of your home with a tankless water heater that can save you space and money. With double the expected lifespan and a quarter of the size of a tank unit, many homeowners find that the upgrade is more than worth the investment.
Hydro jetting: Annual drain cleaning is an important maintenance service for your pipes to prevent and remove clogs that could be plaguing your system. Properly maintaining your lines is essential to increase the lifespan and strength of your plumbing.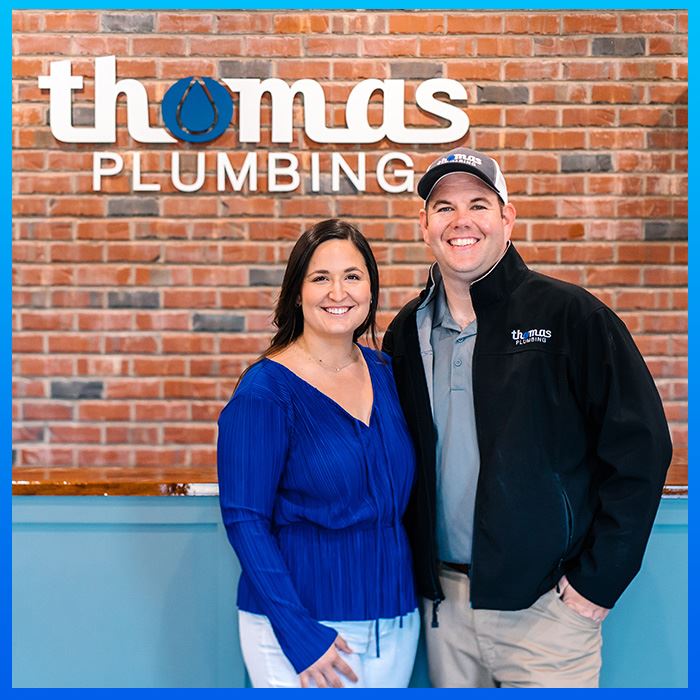 Hear From Our Happy Customers
At Thomas Plumbing, your satisfaction is our priority! See for yourself what our customers have to say about working with us.
"Thomas Plumbing was quick and professional."

After this great experience, we will certainly use them again in the future as needed and refer them to our friends. Thanks again to Lisa for quick scheduling and to Tim for his expertise!

- Tricia M.

"Great company!"

Very thorough and professional. Showed up on time ready to work. The quality of work was excellent. Would definitely recommend!

- Jennifer A.

"No One Better!"

I get so nervous when calling companies for repairs because of the type of service I receive. I called Thomas Plumbing for a garbage disposal installation and sink installation and had a really good experience. Michael and Brandon came out to do the job fo

- Mammie S.

"Couldn't Be Happier"

We came home to a failed hot water heater and someone was at our house within an hour of calling. Amazing service from start to finish.

- Hillary D.

"A truly loyal customer"

Whenever I call them, I get a same-day appointment, they are on time, professional, and courteous. Their work is always guaranteed by warranty. The quality of their work is exceptional. I have America Homeshield but will call Thomas Plumbing because of the

- Sharon S.

"Our guy Steve did an awesome job!!"

I'm so glad I went with Thomas Plumbing!! Not only was he responsive, he was here exactly when he said he would be, got right to the root of the problem AND found some additional small issues I didn't notice. Great guy and a great company!! I&r

- Sean M.

"Best in NC!"

Tim and his associate were on time, professional, and kind. Very refreshing to have such good service. I would recommend them highly and they will be my only choice in North Carolina for plumbing needs.

- Thomas S.

"I can't recommend them enough!"

Have never experienced such good service from a company. Every time we call, they give timely, excellent service. We noticed an underground leak today in the pipe that runs from our well to the house. Even though it was 4pm, they had 2 very nice young men

- Mary S.
Our Blog
Stay in the know with the latest plumbing tips from your Thomas team!