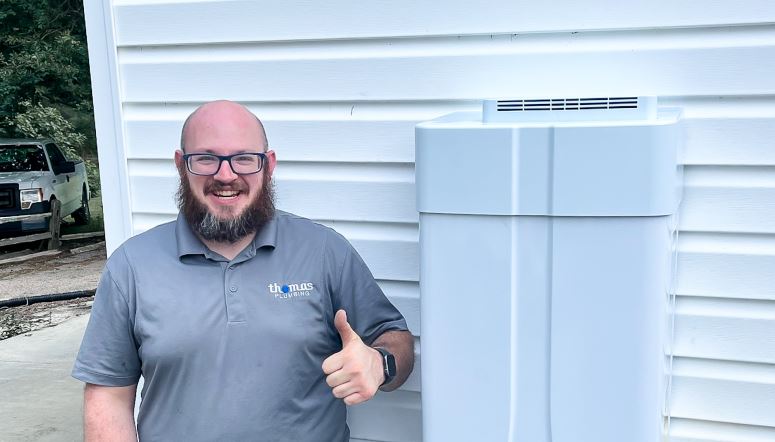 Tankless Water Heater Services in Aberdeen, North Carolina
Are you interested in installing a tankless water heater? Do you have an existing tankless system that needs maintenance or repairs? For both these things, you have come to the right place. At Thomas Plumbing, we are your top choice for tankless water heater services in Aberdeen. We have set numerous property owners up with energy-efficient and high-quality tankless units and performed repairs for countless others. No matter the job, we offer upfront, flat-rate prices and a one-year workmanship and parts warranty. We can also help you secure flexible financing.
Let us know what we can do for you! Call (910) 727-1641 or reach out to us online. We serve homes and businesses in Aberdeen, Raeford, Pinehurst, Southern Pines, & surrounding areas.
Types of Tankless Water Heaters
There are two main types of tankless water heaters: condensing and non-condensing. The key difference is what they do with the exhaust produced while heating water.
Non-condensing systems heat water directly, then release exhaust through a ventilation system. Condensing systems capture the exhaust and use it to heat water. While both systems are much more energy efficient than many storage tank water heaters, condensing units are the most efficient.
Non-condensing units are cheaper to purchase upfront, but they require property owners to have a suitable ventilation system or to install one. Condensing systems are generally more expensive but installing them costs less because they do not require flu pipes for ventilation.
Why Choose Thomas Plumbing?
What Makes Us Different
Serving Raeford, NC Since 2009
Available Nights & Weekends

No matter when you need us, we're ready to help.

We Offer Financing Options

We make plumbing services affordable with financing options.

Backed by a Warranty

Get peace of mind with our warranty-backed services.

Available for Emergency Help

Plumbing emergencies can't wait. Call for immediate help.
Tankless Water Heater Repairs
Whether your tankless water heater is malfunctioning or stopped working altogether, make us your first call! We can troubleshoot and diagnose any issue and then implement a lasting fix. We know that home and business owners choose tankless systems for longevity and efficiency. This is why we do everything we can to make sure that property owners can continue to benefit from the smart investments they made in tankless water heaters.
Schedule an appointment for any of our Aberdeen tankless water heater services by calling (910) 727-1641 or reaching out online.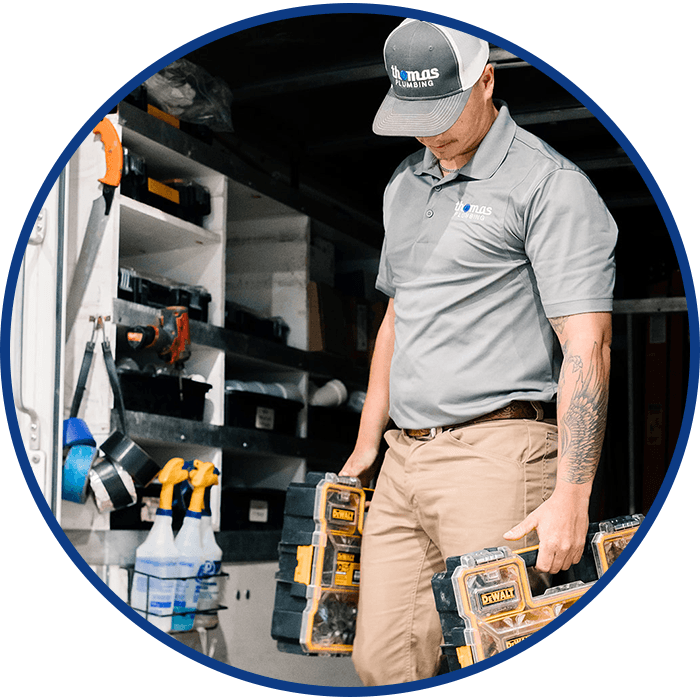 Hear From Our Happy Customers
Reviews & Testimonials
At Thomas Plumbing, your satisfaction is our priority! See for yourself what our customers have to say about working with us.
"Thomas Plumbing was quick and professional."

After this great experience, we will certainly use them again in the future as needed and refer them to our friends. Thanks again to Lisa for quick scheduling and to Tim for his expertise!

- Tricia M.

"Great company!"

Very thorough and professional. Showed up on time ready to work. The quality of work was excellent. Would definitely recommend!

- Jennifer A.

"No One Better!"

I get so nervous when calling companies for repairs because of the type of service I receive. I called Thomas Plumbing for a garbage disposal installation and sink installation and had a really good experience. Michael and Brandon came out to do the job fo

- Mammie S.

"Couldn't Be Happier"

We came home to a failed hot water heater and someone was at our house within an hour of calling. Amazing service from start to finish.

- Hillary D.

"A truly loyal customer"

Whenever I call them, I get a same-day appointment, they are on time, professional, and courteous. Their work is always guaranteed by warranty. The quality of their work is exceptional. I have America Homeshield but will call Thomas Plumbing because of the

- Sharon S.

"Our guy Steve did an awesome job!!"

I'm so glad I went with Thomas Plumbing!! Not only was he responsive, he was here exactly when he said he would be, got right to the root of the problem AND found some additional small issues I didn't notice. Great guy and a great company!! I&r

- Sean M.

"Best in NC!"

Tim and his associate were on time, professional, and kind. Very refreshing to have such good service. I would recommend them highly and they will be my only choice in North Carolina for plumbing needs.

- Thomas S.

"I can't recommend them enough!"

Have never experienced such good service from a company. Every time we call, they give timely, excellent service. We noticed an underground leak today in the pipe that runs from our well to the house. Even though it was 4pm, they had 2 very nice young men

- Mary S.