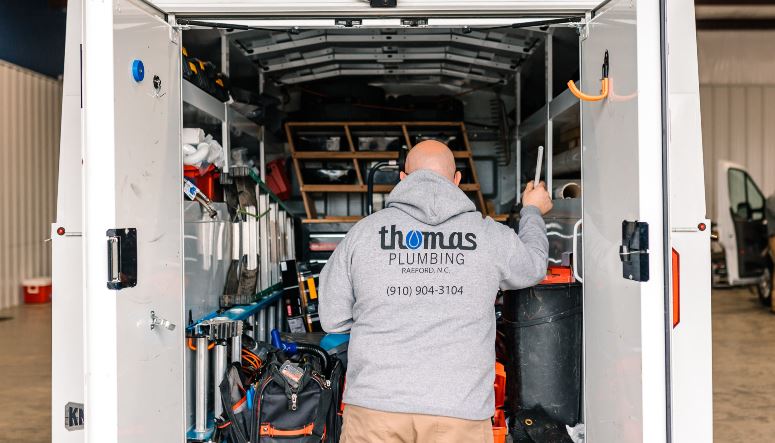 Leak Detection & Repair in Aberdeen, North Carolina
Leaking pipes and plumbing fixtures can be a huge issue for homes and businesses. A small leak can quickly become a major problem, causing damage and wasting water. To make matters worse, it is impossible sometimes to see leaks because they are behind walls, under flooring, or are otherwise hidden from view.
This is why we at Thomas Plumbing offer leak detection and repair services in Aberdeen. Whether it is one leak or many, you can count on our team to locate the problem area(s) and implement a lasting fix. We are available around the clock, so do not hesitate to reach out to us. We proudly serve residential and commercial properties in Aberdeen, Raeford, Pinehurst, Southern Pines, and the surrounding areas.
Contact us online or call (910) 727-1641 to get started with us. We offer same-day appointments.
How Plumbers Find Hidden Leaks
Our licensed, insured, and experienced team of plumbers has multiple leak detection methods at its disposal. They can employ one or more of them to precisely identify the location of a leak.
Below, we have described a few detection methods and how they work:
Checking the Water Meter: This method involves turning off all plumbing fixtures and looking for changes in a building's water use. This method does not locate leaks but confirms they exist.
Visual Inspection: We have been in business since 2008 and have the know-how to show for it. Our team knows where to look for leaks and can often get a good idea of the scope of the issue just from an initial visual inspection.
Sewer Cameras: Advanced camera technologies can provide video of cracks or damage in sewer or water lines that allow them to leak.
Acoustic Detection: Listening devices can pinpoint the exact location of leaks by capturing the sounds they make.
Thermal Imaging: Leaks cause temperature variations that a thermal imaging camera can pick up. This method is especially useful when an area is too noisy for acoustic detection.
Pressure Testing: Pressurizing pipes and monitoring for pressure drops is a common leak detection method.
Why Choose Thomas Plumbing?
What Makes Us Different
Serving Raeford, NC Since 2009
Available Nights & Weekends

No matter when you need us, we're ready to help.

We Offer Financing Options

We make plumbing services affordable with financing options.

Backed by a Warranty

Get peace of mind with our warranty-backed services.

Available for Emergency Help

Plumbing emergencies can't wait. Call for immediate help.
Hear From Our Happy Customers
Reviews & Testimonials
At Thomas Plumbing, your satisfaction is our priority! See for yourself what our customers have to say about working with us.
"Thomas Plumbing was quick and professional."

After this great experience, we will certainly use them again in the future as needed and refer them to our friends. Thanks again to Lisa for quick scheduling and to Tim for his expertise!

- Tricia M.

"Great company!"

Very thorough and professional. Showed up on time ready to work. The quality of work was excellent. Would definitely recommend!

- Jennifer A.

"No One Better!"

I get so nervous when calling companies for repairs because of the type of service I receive. I called Thomas Plumbing for a garbage disposal installation and sink installation and had a really good experience. Michael and Brandon came out to do the job fo

- Mammie S.

"Couldn't Be Happier"

We came home to a failed hot water heater and someone was at our house within an hour of calling. Amazing service from start to finish.

- Hillary D.

"A truly loyal customer"

Whenever I call them, I get a same-day appointment, they are on time, professional, and courteous. Their work is always guaranteed by warranty. The quality of their work is exceptional. I have America Homeshield but will call Thomas Plumbing because of the

- Sharon S.

"Our guy Steve did an awesome job!!"

I'm so glad I went with Thomas Plumbing!! Not only was he responsive, he was here exactly when he said he would be, got right to the root of the problem AND found some additional small issues I didn't notice. Great guy and a great company!! I&r

- Sean M.

"Best in NC!"

Tim and his associate were on time, professional, and kind. Very refreshing to have such good service. I would recommend them highly and they will be my only choice in North Carolina for plumbing needs.

- Thomas S.

"I can't recommend them enough!"

Have never experienced such good service from a company. Every time we call, they give timely, excellent service. We noticed an underground leak today in the pipe that runs from our well to the house. Even though it was 4pm, they had 2 very nice young men

- Mary S.